A humorous present for the luckiest executive on your list! This entertaining gift will keep on giving for many years of professional use, with its business card holder and solid brass pen that comes with Cross refills.
A pair of ½-inch solid brass balls is lovingly mounted on a 9"x6" wooden plaque, alongside the custom pen and business card holders. Delivered with our famous SuperFluffo™ polishing cloth and premium metal polish.
Price $45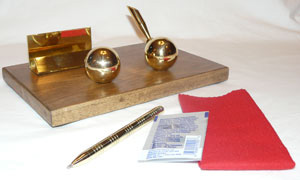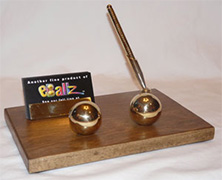 The Perfect Desktop Accessory for the Busy Exec!